Press Release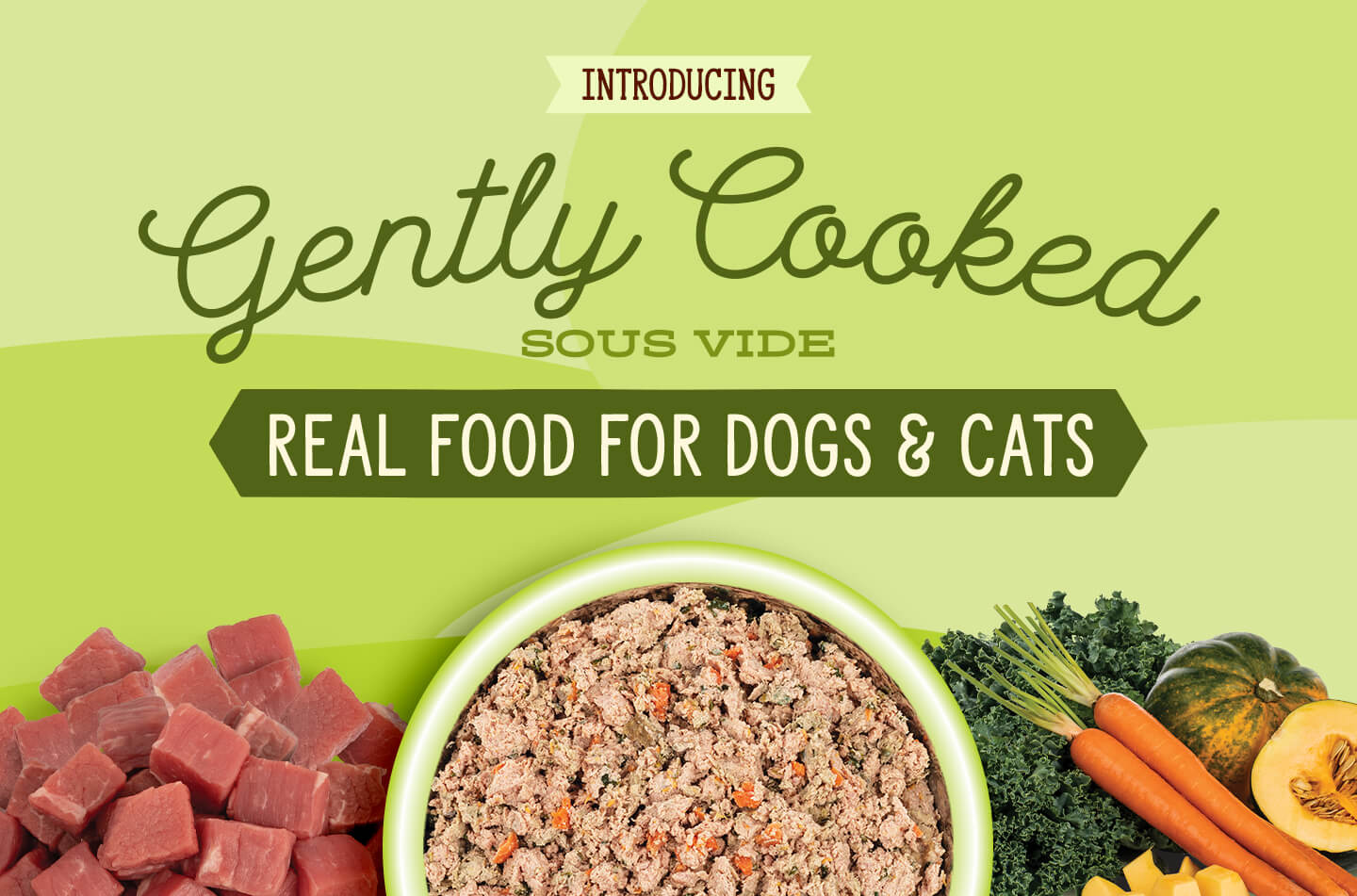 PRIMAL PET FOODS INTRODUCES 'GENTLY COOKED' LINE OF FOOD
New Complete and Balanced Meals Prepared using the Sous Vide Cooking Method Maintains the Integrity and Bioavailability of the Nutrients
FAIRFIELD, California, February 1, 2023 – Primal Pet Foods, a leading brand in the Primal Pet Group portfolio, launched a new Gently Cooked line of foods for dogs and cats. The naturally complete and balanced meals are precisely cooked at a controlled temperature using the sous vide method.
The new Gently Cooked line, which features six recipes for dogs and cats, will only be available in the freezer section at neighborhood pet stores.
"The frozen and refrigerated pet food category has experienced double digit growth over the last year, and we expect that trend will continue to drive growth in the neighborhood pet channel in the year ahead," said Matt Pirz, president of Primal Pet Foods. "We've long believed that partnering with local pet stores and their knowledgeable associates is the best way we can properly educate consumers about the benefits of an innovative new product like Gently Cooked," he added.
Sous Vide Cooking Method
The Gently Cooked meals are prepared with the sous vide cooking method, which means the food is slowly cooked at a low, controlled temperature. Primal mixes the fresh, high-quality ingredients together and then, vacuum seals them in a food grade pouch that is placed in a warm water bath for several hours. Since the ingredients are lightly cooked in their natural juices, the meals are very palatable for dogs and cats.
"We chose the sous vide cooking method because it helps maintain the integrity and bioavailability of nutrients in every ingredient," said Dr. James Templeman, Companion Animal Nutritionist with Primal Pet Foods. He continued, "By cooking at a precise and controlled low temperature, we can retain the moisture, flavor, texture, and aroma of the food."
Gently Cooked Meals for Dogs and Cats
Primal Pet Foods was founded on the belief that a pet's diet should include real, fresh foods. As the company continues to innovate around this belief, it is launching new options like Gently Cooked to make it easier and more convenient for pet parents to start introducing fresh foods in their dog or cat's bowl.
The new Gently Cooked meals are made with whole food ingredients without added synthetic vitamins and minerals. The individually wrapped 4-ounce pouch can be served as a complete and balanced meal or as a topper. Actual serving sizes vary based on a pet's specific nutrition needs. The recipes are as follows:
Gently Cooked Sous Vide Chicken & Squash Recipe, Fish & Kale Recipe, and Beef & Carrot Recipe for Adult Dogs – Each 8-ounce offering includes two pouches of the same recipe, which is formulated for the adult life stage.

Additionally, Primal offers a Variety Pack for dogs – it contains 12 pouches, four of each recipe for adult dogs.
Gently Cooked Sous Vide Chicken & Salmon Recipe for Puppies – This 8- ounce offering includes two pouches of the recipe formulated for growing puppies.
Gently Cooked Sous Vide Chicken Recipe and Fish & Beef Recipe for Cats – Each 4-ounce offering includes one pouch of the recipe that is formulated for all life stages.

Additionally, Primal offers a Variety Pack for cats – it contains four pouches, two of each recipe.
The new Primal Gently Cooked recipes are available through strategic distribution partners in the United States, which includes ADMC, Animal Supply Company (ASC), Frontier, Fauna, Gen Pet, Middle West, Newco, Pet Food Experts, Southeast Pet and Sunburst and in Canada, which includes Pan Pacific, Leis and Avafina. For more information, visit: PrimalPetFoods.com/GentlyCooked.
About Primal Pet Group
Primal Pet Group is a leading manufacturer of raw and gently prepared foods, treats, chews, and supplements for pets. The company is committed to giving dogs and cats the life they deserve by rethinking what they eat and offering innovative solutions that are built with purpose and backed by research. The premium portfolio of brands includes Primal Pet Foods, which pioneered the raw and fresh pet food category, and Himalayan Pet Supply, which is known for creating the original Himalayan Dog Chew and establishing a new category of dog chews in the United States. Primal Pet Group company operates state-of-the-art manufacturing facilities in California, Colorado, Texas, and Washington, and is focused on using production processes that best retain the natural nutrition of quality ingredients. For more information, visit: PrimalPetGroup.com.