Press Release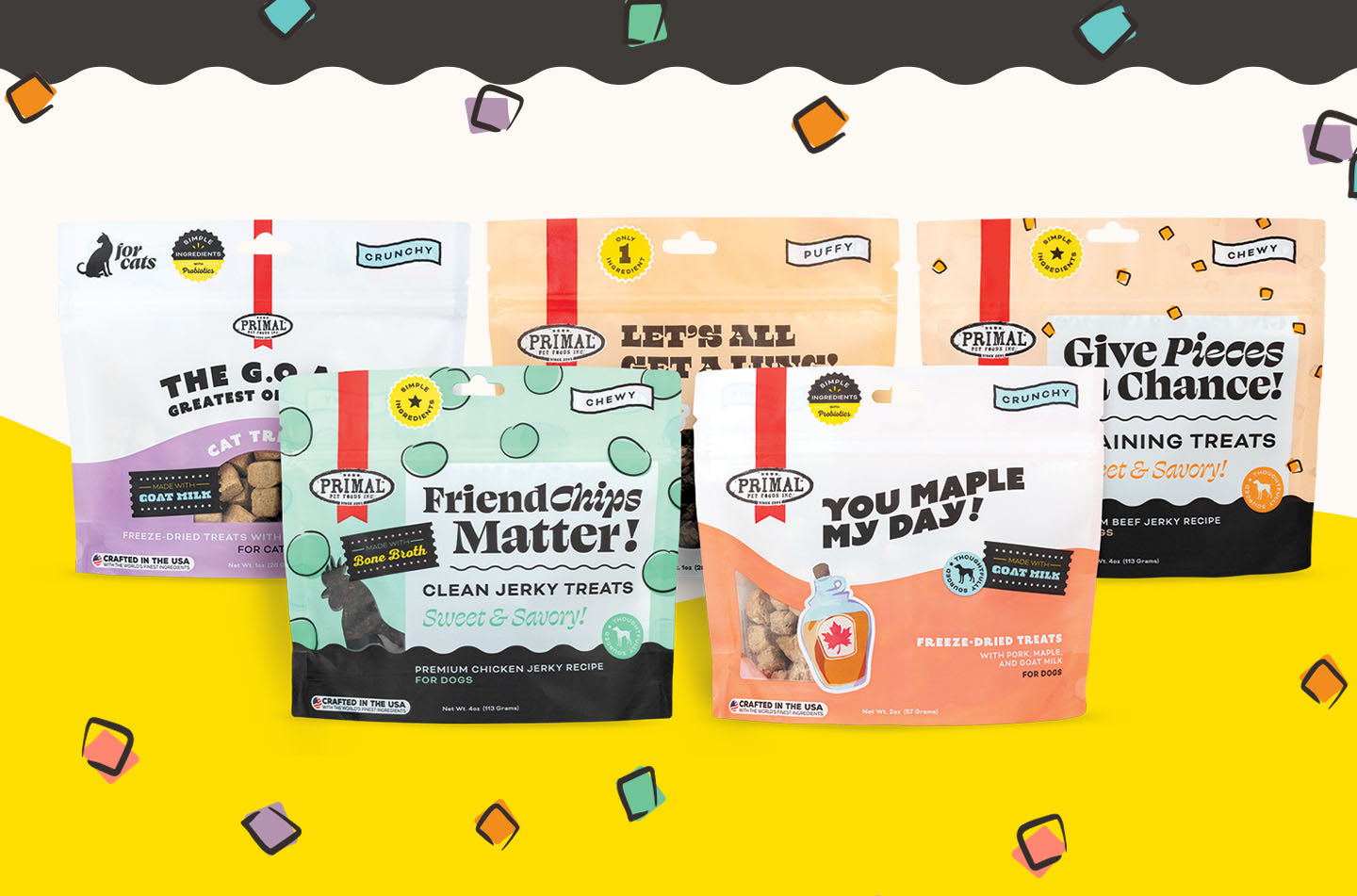 Primal Pet Foods Introduces Exciting New Lineup Of Treats
New Treats Offerings for Dogs and Cats Feature Real Food Inclusions and Recyclable Packaging
FAIRFIELD, California, July 18, 2022 – Primal Pet Foods, a leading brand in the Primal Pet Group portfolio, launched a range of new treats for dogs and cats. The 15 new recipes are made with simple, recognizable ingredients and are available in a variety of formats including jerky, freeze-dried and dehydrated options.
Primal has been known for taking a fresh food alternative to traditional pet food products for over 20 years. Matt Koss, who founded the company in 2001 and continues to lead product development for Primal, set out to reimagine the entire treats lineup this year. He started by listening to feedback from neighborhood pet stores as well as pet parents and quickly saw an opportunity to expand the variety of textures across the treats offerings to appeal to every dog and cat and include real food ingredients in the recipes.
"We've always been focused on making high-quality treats with pure and simple ingredients – and that foundation is at the heart of this launch," said Koss, chief product officer with Primal Pet Group. "We innovated our lineup by using different production technologies to make treats in a range of shapes, textures, and sizes," he added.
Koss continued, "We believe treats should be fun! From the flavors of the recipes and whimsical names of our new products to the many occasions we use them to train or reward our pets, my hope is that this new lineup of treats will delight our pet parents as well as their dogs and cats."
How Do You Want to Be Treated?
Primal Pet Foods aims to provide solutions for all pet parents by offering treats in a wide variety of formats and recipes. As with all Primal products, the new treats are made in the USA and free from corn, wheat, soy, legumes, lentils, grains, or gluten. Additionally, the updated treats offerings are made with responsible, ethically sourced proteins, raised without antibiotics, steroids or added hormones. The four new lines of treats are:
FriendChips Matter! Jerky Chip Chewy Dog Treats are available in two varieties – Chicken Jerky or Beef Jerky. And Give Pieces A Chance! Jerky Pieces Chewy Dog and Cat Treats are available in two varieties for dogs – Chicken Jerky or Beef Jerky – and one protein option for cats – Chicken Jerky. The jerky items are designed as a perfect training treat.
Primal Freeze-Dried Crunchy Treats for dogs and cats feature real food inclusions such as banana, pumpkin, and peanut butter, and are made with goat milk and probiotics for gut health. The new assortment includes four recipes for dogs – Pumpkin For My Pumpkin Pumpkin Treat; Peelin' Fantastic Banana Treat; You Maple My Day Maple Treat; and You're My Butter Half Peanut Butter Treat – and one recipe for cats – The G.O.A.T. Goat Milk Treat.
Liver, Laugh, Love Primal Freeze-Dried Liver Dog and Cat Treats are made with probiotics for gut health and available in two varieties for dogs – Chicken Liver and Pork Liver – and one protein option for cats – Pork Liver.
Let's All Get A Lung! Dehydrated Lung Cubes Dog Treats feature a puffy texture and are highly palatable; they are available in two varieties – Beef Lung or Lamb Lung.
Primal transitioned to recyclable packaging across its Treats lineup; the company is proud to partner with How2Recycle to provide transparent on-package recycling information for pet parents.
For more information about the new Treats, visit: PrimalPetFoods.com/Pages/Tempting-Treats.
About Primal Pet Group
Primal Pet Group is a leading manufacturer of raw and gently prepared foods and treats with proven benefits for dogs and cats. The company is committed to improving the overall health and happiness of pets with its premium line of products that includes Primal Pet Foods, Prairie Dog Pet Products and Himalayan Pet Supply brands. The company has manufacturing facilities in California, Colorado, Texas, and Washington, and is focused on using production processes that best retain the natural nutrition of quality ingredients. For more information, visit: PrimalPetGroup.com.